Having a mess free area for kids to play is something that many people look for. This is something that is possible using artificial turf. STI dealer, STI of Pennsylvania, recently visited Renks, Pennsylvania to install turf for a mini farm village play area. The play area they helped create is called Cherry Crest Adventure Farm. STI of Pennsylvania installed 5,800 sq. ft. of SoftLawn® EZPlay to create the grass, pond, and island. EZ Play in Field was used to create the grass and the island, and they used EZPlay in Florida Blue to create the "pond." The customers loved this ingenuity of using blue turf to create a "pond." The customers were wanting something to replace the grass and mud that would be low maintenance. STI of Pennsylvania were able to do this for them.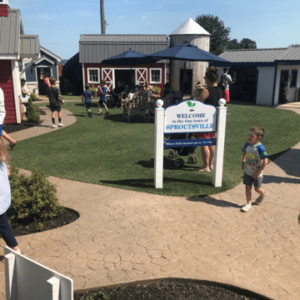 Benefits of Turf on Playgrounds
Play areas and playgrounds are a popular application among our customers. This application allows you to create a safer surface that is low maintenance and reduced mud. Reducing mud is a big deal for it gives kids more opportunities to play outside. With this application you can also add playground pad to create fall zones. Fall zones add more cushion and give to the ground to help reduce injuries you see on a playground. Another benefit of our playground application is that it is ADA compliant. This means children of all abilities are able to enjoy the playground. The main product that is used for our playground applications and this job is SoftLawn® EZPlay.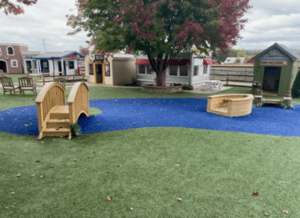 SoftLawn® EZPlay
SoftLawn® EZPlay is a playground that can also be used for landscaping, pet facilities, and golf fringe. This product has a thatch layer for added body, and this helps to reduce the amount of infill needed. Our product also has a feature called ChargeGuard™. ChargeGuard™ is built into the structure of the product and not a coating that is added. With it being built in, this means ChargeGuard™ will last as long as your turf does. ChargeGuard™ is an electro conductive yarn fiber that helps reduce static in the turf by 200%, and it has grounding properties. This is an added benefit that is ideal for installs such as this one.
Once the install was complete, the customers were very pleased with the entire job. They loved the quality of work and the product. Also, the professionalism of the team and the speed at which they completed the job. They especially loved their creativity with using the turf in Florida Blue to create a pond and island.
If you have any questions or would like to discuss a project you have in mind, reach out to our team today!
Visit our application page for more information, browse our gallery for ideas, and contact STI to "Experience A Greener World."