STI dealer Country Landscapes, Inc completed an install in Nevada, Iowa. They were contacted by the customers to help them create a mud free space for their dogs. They installed twenty-seven square feet of SoftLawn Pet Premium in a small fenced in area in the customer's yard. Country Landscapes, Inc had some difficulties to overcome since they were going to have to install over an extremely muddy area of sod. Artificial Turf is a great product for pet areas because it helps with many issues that pet owners have. That is why is has become such a popular application over the years.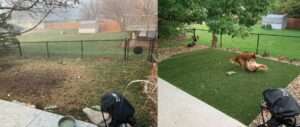 Pet Application
Pet applications are a great investment for pet owners. There are many benefits that come with the application that most people wouldn't think of. Our pet products help reduce mud, so no more cleaning muddy paws before your pets enter the house! These products can also be installed indoors. This means your companions have a place for them to hang out and relieve themselves during harsh weather.
Another added benefit of our pet products is that if they relieve themselves on it, it will not get discolored like natural grass would. Your lawn would stay green and free of browning spots! Cleaning up after your pet is easy as well. For liquid waste you can simply rinse it off with a water hose. For solid waste, after you have removed it you can clean it with a 50/50 mixture of water and white distilled vinegar. This will help sanitize and deodorize the area.
SoftLawn Pet Premium
The product featured in this application is SoftLawn Pet Premium. SoftLawn Pet Premium has a short pile height that makes it easier to maintain and clean. There is an added layer of thatch that helps give volume and reduce the amount of infill that would be needed. It also has an extremely durable surface that can withstand high volumes of traffic. Your pet will have a space that can last, and it will stay looking great for years to come!
This install was everything that customers wanted, and they are in love with the outcome. If you have any questions about pet applications, or have questions about ideas of your own, you can reach out to our team today!
You can check out other applications, products, our photo gallery for some inspiration, and contact us today!