STI Dealer Golf Greens Texas recently completed a residential job in Lubbock, Texas. The home owners were having a house built and wanted to bring more color into their pool area. Because of referral and reputation, they reached out to Golf Greens Texas. Golf Greens Texas was able to find them a product that they loved and would make the space look great. The homeowners decided to have 1,350 sq. ft. of EZ Play in Florida Blue installed around their pool.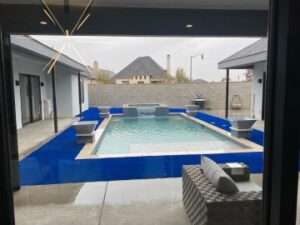 EZ Play
EZ Play is a signature playground product but is also versatile for other application needs. This product can also be used for landscape, pet facilities, golf fringes, and more! This product has a layer of that to give it added body and reduce the amount of infill needed. The Field/Green color option has a four-color blend that helps give it a more realistic look of a natural lawn.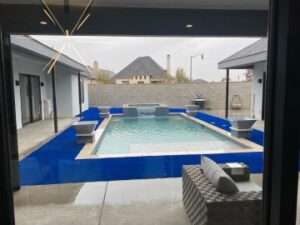 Drainage
Every job has its obstacles and this one was not any different. Most jobs that are done over concrete will need some sort of drainage system. This job required for them to install drainage pipes underground so pool and rainwater would have somewhere to drain off to. With the house already built they would have to work around existing pipes. This was the main difficulty that they ran in to on this job. Once they were able to fix the problem, they were able to complete the rest of the job without any more problems.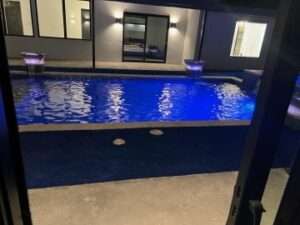 In the end the customer wanted to a low maintenance install that would bring beauty to the area. They were in the love with the outcome, especially the color. If you have any questions, feel free to contact a member of our team today!
You can view our products, applications, and galleries. If you have a job you would like completed, want to discuss an idea, or have any questions, do not hesitate to contact us today!